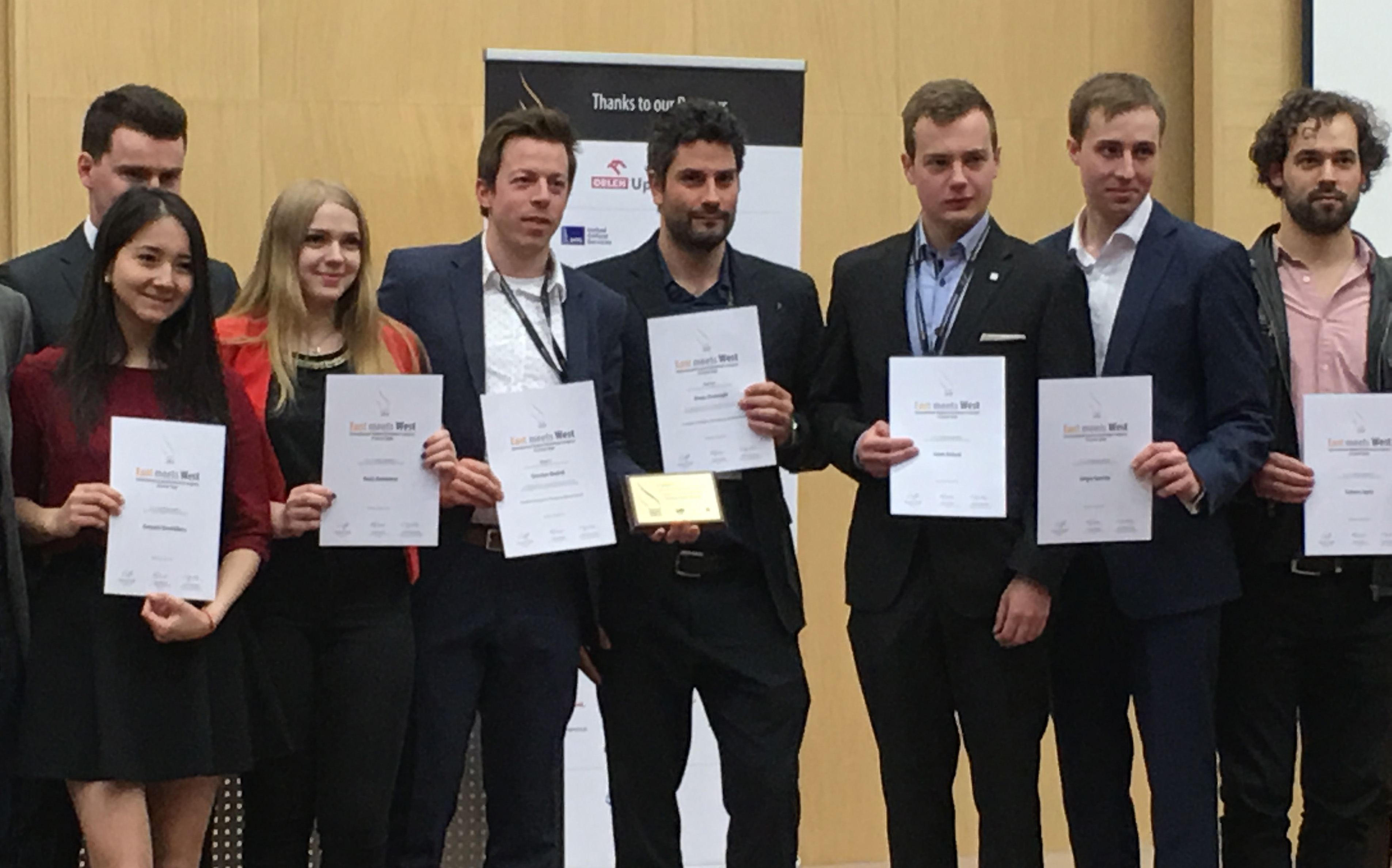 East Meets West – A Personal Success Story


29. 04. 2016

cs, Nicola Zivelonghi and Christian Mudrak


In 2016 we finally made it to the International Student Petroleum Congress & Career EXPO "East Meets West", taking place in Krakow, for the 7th time. After having been directly invited by the colleagues from Poland – whom we met at the 10th Oil and Gas Youth International Forum in Almaty, Kazakhstan) – three years earlier it was high time to accept the invitation!
With great inputs for discussion, knowledge sharing the congress has not only proven to be a great place to meet new people and to network but it was also the perfect opportunity to bring together old friends. Nicola travelled from Vienna to Krakow whereas Christian made his way from the north, since he is currently doing an exchange at NTNU in Trondheim. The reunion included typical Leoben traditions (beer J) but also the final preparation for our poster presentation. In fact, as most of the other participants were enjoying dinner, we were sitting in our hotel room rehearsing and trying to figure out the most salient points to address in front of the jury. Certainly we joined the party afterwards, but business before pleasure!
The first day of the congress was highlighted by the debate "Managing the current economic situation in the Oil & Gas Industry" and the career session featuring Orlen Upstream, EY, MOL Group, and FMC technologies. On the second day of the congress it was our turn. We presented the results from our "Flow Behaviour Investigation of a Sandstone Reservoir", research that we had carried out as part of our bachelors programme related to a geological field study. It describes how we developed an outcrop-analogue reservoir model from a mapped geological area. After carrying out a flow simulation using this model, we investigated the different effects of changing scenarios (water injection pressure, viscosity as well as density of oil and water phase). Additionally we accounted for uncertainties running a probabilistic calculation of the stock tank original oil in place.
The posters were put up in the exhibition area and visitors as well as the jury walked from one work to the next in order to ask questions and inform themselves about the conducted research. A total of twenty different posters were presented at the congress also featuring "Drilling Rate Models for PDC Bits" by Florian Gamperl, one of our colleagues from Leoben. The posters included drilling, reservoir, production, geology, petrophysics, and even refinery topics leaving the judges with the fairly difficult task to rank them. Among other criteria poster appearance, innovativeness and laboratory research were accounted for. Unfortunately we did not have a lot of time ourselves to see all the other posters, and to talk to with their authors, which we would really have appreciated.
At the lasts day's closing ceremony one presenter after the other was called on stage. Although being confident with our performance we were astonished to be called out as the winners of this year's poster competition. We felt relieved and proud when receiving the award Even now, a few days after the event, these feelings are still present. Hereby we want to express our gratitude to the organizing committee again, and to our guides who took such care of us in Krakow. It was great to be part of the event! Additionally we want to thank the SPE Student Chapter Leoben for their support.
In conclusion, we really want to encourage fellow students to step up and present their work at one of the several possibilities. As a member one can benefit from SPE in so many ways but entering the stage will give you additional attention and a whole new level of interaction with other students, scientists, and industry professionals.