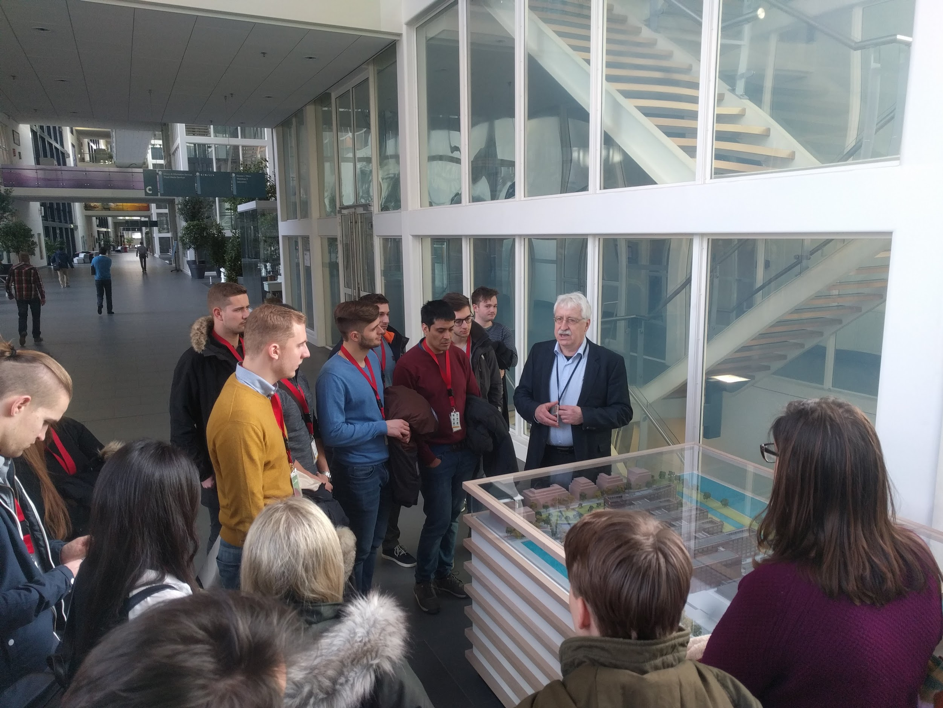 Field Trip to the Netherlands


30. 05. 2018

Manuel Hartl


Hyped by the remarkable run on the limited number of spots available, the expectations for this year's Petroleum Engineering field trip to Amsterdam where high right from the start. The 24 students lucky enough to be on the trip organized …
Hyped by the remarkable run on the limited number of spots available, the expectations for this year's Petroleum Engineering field trip to Amsterdam where high right from the start. The 24 students lucky enough to be on the trip organized by the student representatives and the SPE student chapter stayed at the Generator hostel in Amsterdam from the 25th (Sunday) until the 30th of March. During these days they enjoyed insights into oil and gas related companies and universities as well as the vibe of a city with a remarkable history, world class museums and amazing restaurants.
Shell Laboratories
After the arrival day, on Monday the field trip got kicked-off by a visit of the Shell Technology Center Amsterdam (STCA). The students were welcomed by Axel Makurat, team leader at Shell responsible for Rock and Fluid Physics and Professor Ott, who was visiting his former workplace.
After two very interesting presentations by Steffen Berg on his ideas on imaging pore scale displacement using x-ray tomography and by Sander Hol on special topics related to his research in geomechanics focusing on the Groningen gas field, the students were shown around inside the laboratories. The equipment that has been moved just recently from the former location of the upstream research facilities in Rijswijk, impressed by its state of the art technology.
The remainder of the equipment that yet has to be moved to Amsterdam was visited on Tuesday, including a hydraulic drilling rig capable of automated pipe handling.
TU Delft and TNO
The fourth day of the field trip was a busy one for the students. Hosted by the committed students of the SPE student chapter Delft and Professor Rossen, a specialist in surfactant EOR, our students got introduced to the university and its traditions as well as on the current research focus of its scientists.
Definitely worth to be mentioned is a creative workshop called Dream Hall inside the university. Student take time off their studies and spend a semester or more to work on design challenges or build vehicles to compete in races.
After lunch break, the Netherlands Organization for applied scientific research TNO hosted the students for a company presentation in their office and research facilities located close to the university campus in Delft. The independent organization focuses on solving engineering problems of economic and social value. Many of their topics are related to the oil and gas industry, like the development of a new riser geometry to mitigate tonal noise and vibrations on offshore gas production facilities.
The event concluded with a get together with representatives of the company, providing personal insight in the company structure and climate, including information about how to get to start working at TNO.