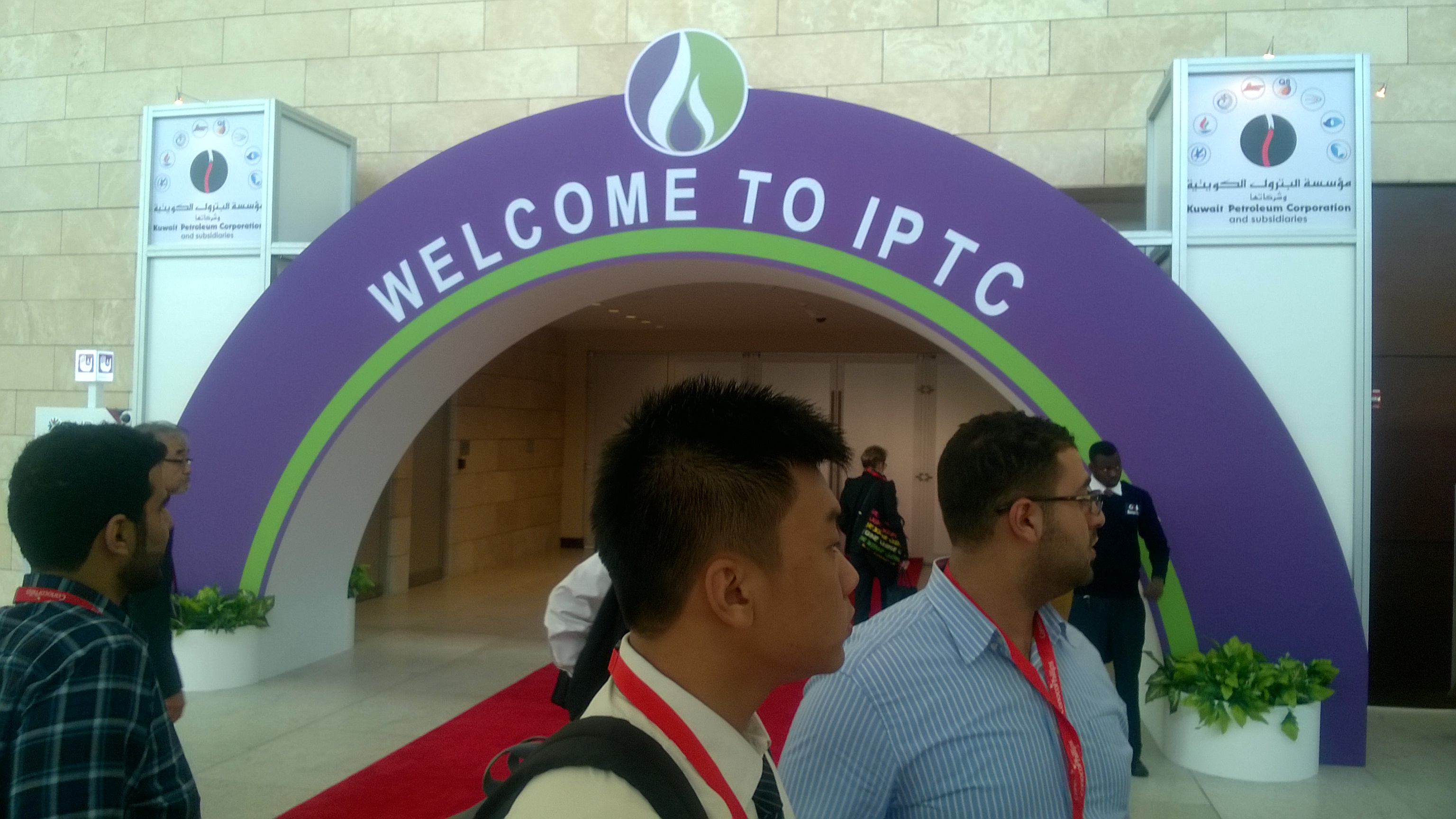 Leoben SPE Representative at IPTC 2015 in Qatar


27. 12. 2015

Florian Gamperl


It was quite a surprise for me, when SPE informed me in late June 2015 that I had been chosen to represent our university and its SPE Student Chapter at IPTC 2015 in Doha, Qatar. While unexpected, it was a …
It was quite a surprise for me, when SPE informed me in late June 2015 that I had been chosen to represent our university and its SPE Student Chapter at IPTC 2015 in Doha, Qatar. While unexpected, it was a great honor to join this multinational event, giving the opportunity to get an insight in the industry, and to get to know people from all around the world and their views and thoughts on academia, jobs and the current industry downturn.
During the event, all the students had been assigned topics associated with the conference's topic "Rising to Meet the Grand Energy Challenges", and we had to present our topic within the frame of the conference. The topic I had chosen was "Serving Society Through Industry", a closer look at the challenges and opportunities Corporate Social Responsibility (CSR) can bring. My team mates were from all around the world: Diana from Canada, Mohamed from Egypt, Ranjana from India (although she could unfortunately not participate due to visa issues, but her input throughout the project work was highly valued) and Kene from Nigeria. It was a great honor and certainly a pleasure to work with those guys!
Dec. 5 – Arriving
The whole adventure started for me with my flight to Doha. After a few hours of flight on QR183 I arrived in Doha around midnight. While waiting for our transfer to the hotel, I met a few fellow students at the airport; we finally arrived at our hotel around 1a.m., and went to bed immediately, knowing that lots of interesting events had been planned for us for the next day already.
Dec. 6 – Introduction and Get-Together
After getting up quite early and getting to know Farid, my roommate from Azerbaijan, who had arrived even later than me, a day filled with an ample program started:
At first, the main sponsors of IPTC (Shell, ExxonMobil, Qatargas, Dolphin Energy Group, Maersk Oil and Oxyh) gave us a view of their operations in an area that was completely new territory for me: on- and offshore oil and gas fields in Qatar, and shipping gas (LNG) to all around the world (Qatar Gas is the largest LNG supplier, exporting 1/3 of the world's LNG from Qatar to the customers); while everyone is complaining about the industry downturn, it appears that Qatar's economy is ever-flourishing.
After a lunch break the program continued with an "educational session" (focusing on CV writing and job applications) and a "job fair", where the sponsoring companies distributed their goodies, talking to groups of students about internship and job opportunities for students and fresh graduates.
With the official program being over, we decided to use the spare time to work on our presentation assignment, as we had the opportunity to really discuss our ideas for the topic for the first time. Finally, we did some sightseeing in the proximity of our hotel located in the business center of Doha while looking for a location to have dinner.
Dec. 7 – At the conference
After breakfast and a seemingly endless transfer to the Qatar National Convention Center (QNCC) – our bus was stuck in traffic jams due to the incredible amount of construction sites – we arrived just in time for the opening ceremony of the 9th International Petroleum Technology Conference (IPTC), and the following panel discussion; the CEOs of Qatar Petroleum, ExxonMobil, Saudi Aramco, Total and ConocoPhillips discussed question related to the current situation. The consent was that the industry will have to turn the current challenges into opportunities, be it by partnering up, be it by developing new technologies (to name only a few ideas), and that the oil price will stay "lower for longer" (lower not only than 2 years ago, but possibly also lower than right now!).
After this, I used my spare time to explore the exhibition together with my colleagues, getting to know companies I had never heard of before, and trying to get the companies' opinions on job opportunities for future graduates – which apparently no one wanted to answer directly…
In the afternoon of Dec. 7, a group of students visited a geologically interesting Cave outside Doha, while my own group visited Maersk Oil's research laboratories in the exterritorial Qatar Science and Technology Park. Aside from their huge interactive Lego model of drilling and production platforms, we got an insightful presentation on how Maersk Oil deals with the presence of whale sharks in the Persian Gulf, which impose some restrictions for the offshore operations. Interestingly enough, those largest fishes in the world do not seem to be intimidated nor threatened by offshore drilling or production operations. Furthermore, Maersk gave us the opportunity of visiting their 3D Core Lab, where a sophisticated chain of electronic measurements can give a fully automated and very detailed (routine) core analysis, offering not only the standard porosity estimates, but thanks to computer technology a very accurate measurement. An additional feature of this lab is that computerized image processing also allows to determine the exact mineralogy of the core plug.
After another session on our presentation, we decided to explore a Bazar in Doha's older part, including local cuisine and souvenirs from Qatar.
Dec. 8 – Into the desert and to the sea!
This day was filled with a field trip to the desert, specifically to the city of Dukhan and the eponymous oldest oil field in Qatar, as well as Qatar Petroleum's facilities there. This included a visit of the discovery well Dukhan-1, the first ever well that found oil in Qatar, the core storage and laboratories. This gave me (as well as most of my colleagues) the first ever experience of seeing how cores are prepared, core plugs are drilled and how they are then analyzed under polarized light – a really amazing and interesting procedure!
The excursion was concluded in Qatar Petroleum's own Marina and Yachting Club, where we again had the opportunity to try the great Arabic cuisine, and finally spending a few minutes at the seaside before our bus took us back to the capital.
The rest of the day was spent with finalizing and rehearsing the presentation for the next day before we went on another exploration tour, this time of modern Doha.
Dec. 9 – The last day
After breakfast, the bus took us to QNCC again, where we had to present our topics to a jury, as well as the fellow students and the passing-by audience. The presentation topics were all connected to the conference's motto, but this time it was about our own opinions and views of the situation and the industry's burning matters, issues and challenges.
At noon, all 10 groups had given their presentations, and while the jury judged our performances, the presidents of AAPG (John Hogg), EAGE (Mohammed Alfaraj), SEG (John H. Bradford) and SPE (Nathan Meehan) gave speeches, talking about their lives and industry experience, motivated us to keep going despite the currently struggling industry and to use the current situation to broaden our minds, i.e. not focusing on only our own part of the industry, but try to get a glimpse of the "greater picture". This could also be done by joining other professional organizations than just the one that you feel represents your field of study best, and by volunteering in your local society chapters.
After lunch I took the free time until the closing ceremony to listen to paper presentations on the subject of formation evaluation while drilling.
Finally, the closing ceremony meant the official end of the conference, and after honoring the winning team, who had a very inspiring presentation about women in the oil and gas industry the first groups of student already had to leave for the airport. The remaining students used the evening and the first real free time in Doha to explore the old city center one last time before leaving for home again.
Dec. 10 – Departure
Time flew by really quick and being transferred to the airport meant getting up early really to leave(4a.m.!). At the airport, it was one last time to say goodbye to my colleagues who left at the same time, and then it was time to board QR184, an uneventful flight back to Vienna.
On this occasion, I would like to thank all the sponsors and the organizing committee of AAPG< EAGE< SEG and SPE for this really awesome and amazing event, and for making it possible that students form all around the world can join IPTC, giving our generation a great opportunity of building networks, getting to know people from all around the worlds and thus broadening our horizons, not only on a professional, but also on a personal level. An unforgettable experience for which I cannot express my gratitude enough!
It was a true honor to meet all these people, and spending time together with them. Hopefully, we will meet again someday!
Florian Gamperl