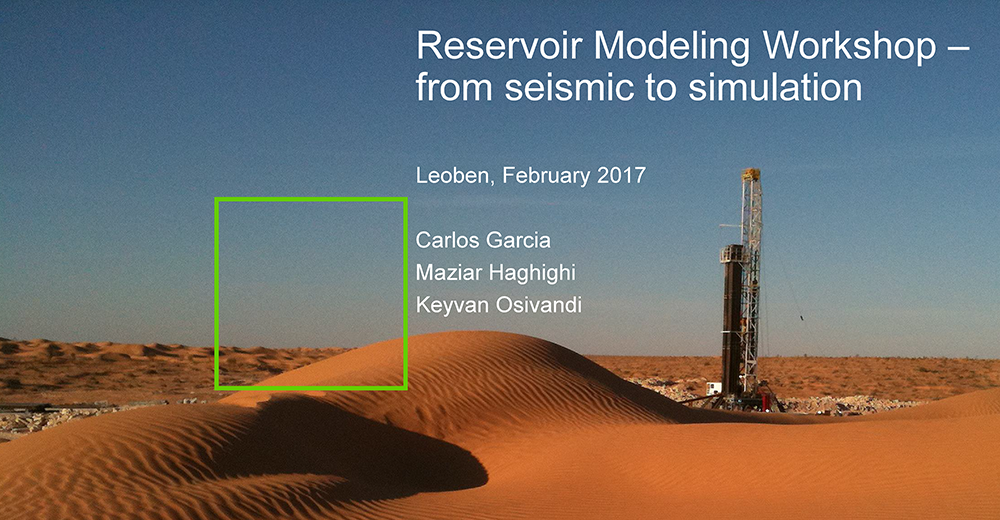 Reservoir Modeling Workshop – from seismic to simulation


25. 02. 2017

Daniel Judmaier


On 13th to 17th February 2017, three specialists in geophysics, geology and reservoir engineering from OMV came to Leoben and did a workshop on how to get and simulate a reservoir model from seismic data.
The workshop was divided into three main parts, where each professional taught his area of expertise to a class of 20 students from different countries studying in Leoben in different Master- and Bachelor programs, such as Petroleum Engineering and Geology.
On the first one and a half days, Mr. Maziar Haghighi got us a perfect start with the software solution Petrel, even to those who had no idea about it. After the start was done and people got comfortable with the software, he showed us, how to import predefined time (PSTM) and depth (PSDM) domain seismic volumes and how to convert within these two using a velocity model. Setting up new Petrel projects, defining seismic horizons, mapping and adjusting the wells using different gridding algorithms were the overall goals in this time with Mr. Haghighi.
Working further on the project, coming to the static geomodeling part of the workshop, Mr. Keyvan Osivandi, Geologist at OMV, taught us, how to correlate log data with the model. We created the body via fault and horizon modeling and filled it via porosity, permeability and saturation modeling followed to volumetric calculations.
When the static part of the project was done, dynamic simulation was the topic of Mr. Nicolas Legrand. We did the initialization of the reservoir to get it to dynamic equilibrium at the start of production using initial pressure and saturation data. After the initialization process, a history match with existing data was necessary to get a good reservoir model for forecasting further processes. Based on the forecast, we could make a decision if a workover in an existing well or if an infill would be more beneficial in the field.
Summarized, the workshop gave us a really good start in working with the Software Petrel and renewed or even created much reservoir knowledge for students in different study programs. It was a pleasure to work with professionals from OMV who really know what they are talking about.
We would like to thank the ÖGEW for their help, without them this event would never have been possible!