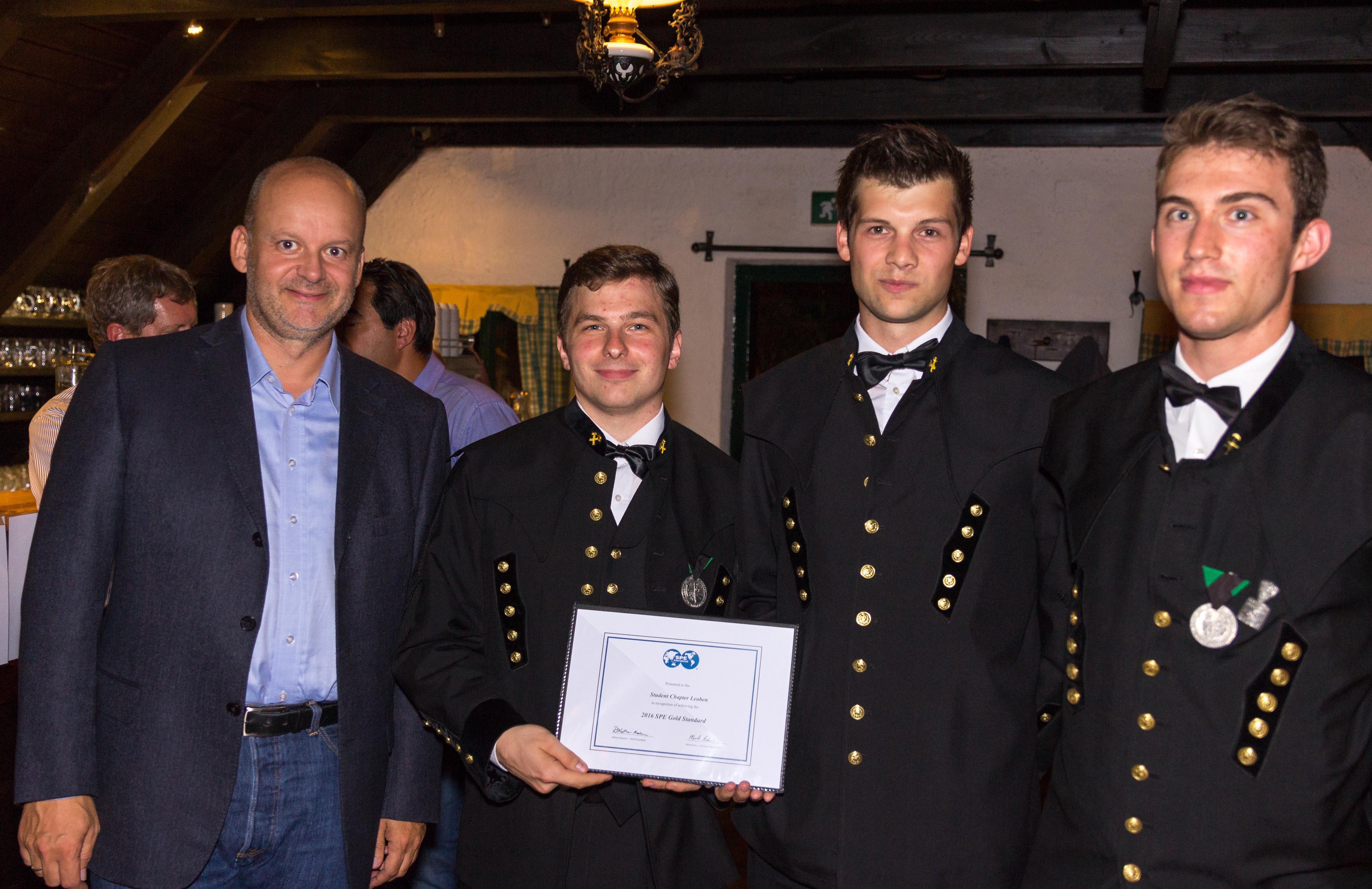 SPE Vienna Basin Section Geological Excursion & 25th Anniversary


19. 09. 2016

Florian Gamperl


The SPE Vienna Basin Section organized a geological excursion to an old quarry in Vienna and a get-together afterwards to celebrate their 25th anniversary. Some Leoben students participated in this even.
On September 15th, about 25 members of the SPE Vienna Basin Section (VBS) gathered in the beautiful Viennese suburb Sievering for a geological excursion. Among them people of all generations, from student members (4 students of the SPE Student Chapter Leoben) over many professionals and young professionals to those who already enjoy their well-deserved retirement.
The destination of the excursion was a quarry nearby, which back in its days of glory was the origin of the building material of many buildings in Vienna. Our tour guides on this journey not only uphill, but also back in time were Hans Egger and Godfrid Wessely, two very experienced geologists who know the Vienna Basin like the back side of their hands. Under their expert guidance the group proceeded uphill, with short stops to give an introduction to how the basin was formed, knowledge which seemed to be present in all our heads from our studies and working experience, but not to the detail to which Mr Egger and Mr Wessely explained it to us in very simply and easy-to-understand words. They also showed the group paleo maps of Austria to better understand the greater context of what we were about to see.
The excursion soon left the main road, moving steeply uphill towards the old quarry; arriving there, an amazing and very impressive geological feature came into our view: Turbiditic sequences (Bouma Sequences), submarine avalanches which we learned in that excursion have some astonishing properties, such as their speed (these suspension of sediment particles move at an amazingly high speed), their extension of up to several hundreds of kilometers and their sedimentation rate. Turbidites can settle within a few seconds, but it can also be a process of hundreds or even thousands of years, as the ones that could be seen during our excursion.
Not only this amazing geological feature made the VBS geological excursion worthwhile; also the insight in the formation of the Vienna Basin and its extremely fast subsidence as well as the relevance of the geological setting for the formation and production of hydrocarbons were explained nicely and even understandable for us engineers. Furthermore, we were shown some small-scale sedimentary structures, such as the evidence of life – again something most of us remembered from university but hardly anyone has ever really noticed in real life.
All in all, the geological excursion was indeed very interesting. A huge thank you to the SPE VBS for organizing this event, and to our guides, Hans Egger and Godfrid Wessely.
After the geological excursion, we gathered again, after just a few minutes' walk through the picturesque vineyards of northern Vienna, at Weinhof Zimmermann, a Viennese Heurigen, where more participants of the 25th anniversary celebration of the VBS waited for our arrival.
While waiting for the official program to start, the guests had the opportunity to meet old friends, colleagues, professors even, and to get to know new people, not only from the local SPE Section, but also from all over Europe – representatives of the SPE sections in Italy, France, Germany, Romania, Poland, Hungary and Croatia also joined the anniversary – or simply enjoy the breathtaking view of Vienna over a glass of wine. SPE Regional Director for South, Central and Eastern Europe, Matthias Meister attended the celebrations as well, not only because of the Regional Section Officers Meeting the next day, but also to honor a number of people and organizations for their contribution to the SPE Community.
Before dinner, a buffet with a rich selection of famous Austrian food, the celebration started with current Chairperson Andrea Payer-Moser honoring the founding members of the Vienna Basin Section, Prof. em. Brigitte Weinhardt, Prof. em. Gerhard Ruthammer and Prof. em. Zoltan Heinemann as well as the past chairpersons Gerhard Ruthammer, Klaus Potsch, Viktoria Wäger and Reinhard Pongratz, thanking them for their commitment to SPE, and handing over certificates of appreciation and an illustration by Klaus Potsch.
The past chairs also took the opportunity to talk about their experience in SPE, and some anecdotes about their time in SPE VBS (e.g. Gerhard Ruthammer said: "I joined SPE to polish my English, but they told me 'Your English is Polish enough!'").
After dinner the SPE Awards Ceremony took place –, where Matthias Meister honored several persons and organizations for their commitment to SPE and the industry:
Regional Awards:
OMV Petrom received an award for their support in organizing events for the SPE Romanian Section
The University of Lorraine was honored with the Regional Distinguished Achievement Award for Petroleum Engineering Faculties
Jean-Marc Dumas, past chairman of the SPE France Section received the SPE Distinguished Membership Award
Klaus Potsch was honored with the Regional Service Award
International Awards Wards were handed over to
Georg Mittermeir has won the Cedric K. Ferguson Medal for his excellent research and publications on reservoir engineering topics, for which only researcher under the age of 35 are considered – which clearly shows that SPE cares very much about the young generation, the future of our industry.SPE Croatian Section (President's Award for Section Excellence)
SPE Vienna Basin Section (2016 SPE Gold Standard Section)
Mining University of Leoben SPE Student Chapter (2016 SPE Gold Standard Student Chapter)
On this occasion, we would like to take a moment to congratulate every awardee, and we would like to thank everyone who has contributed to SPE in the last year, making these great achievements possible. To many more successful years with the SPE VBS and the SC Leoben!