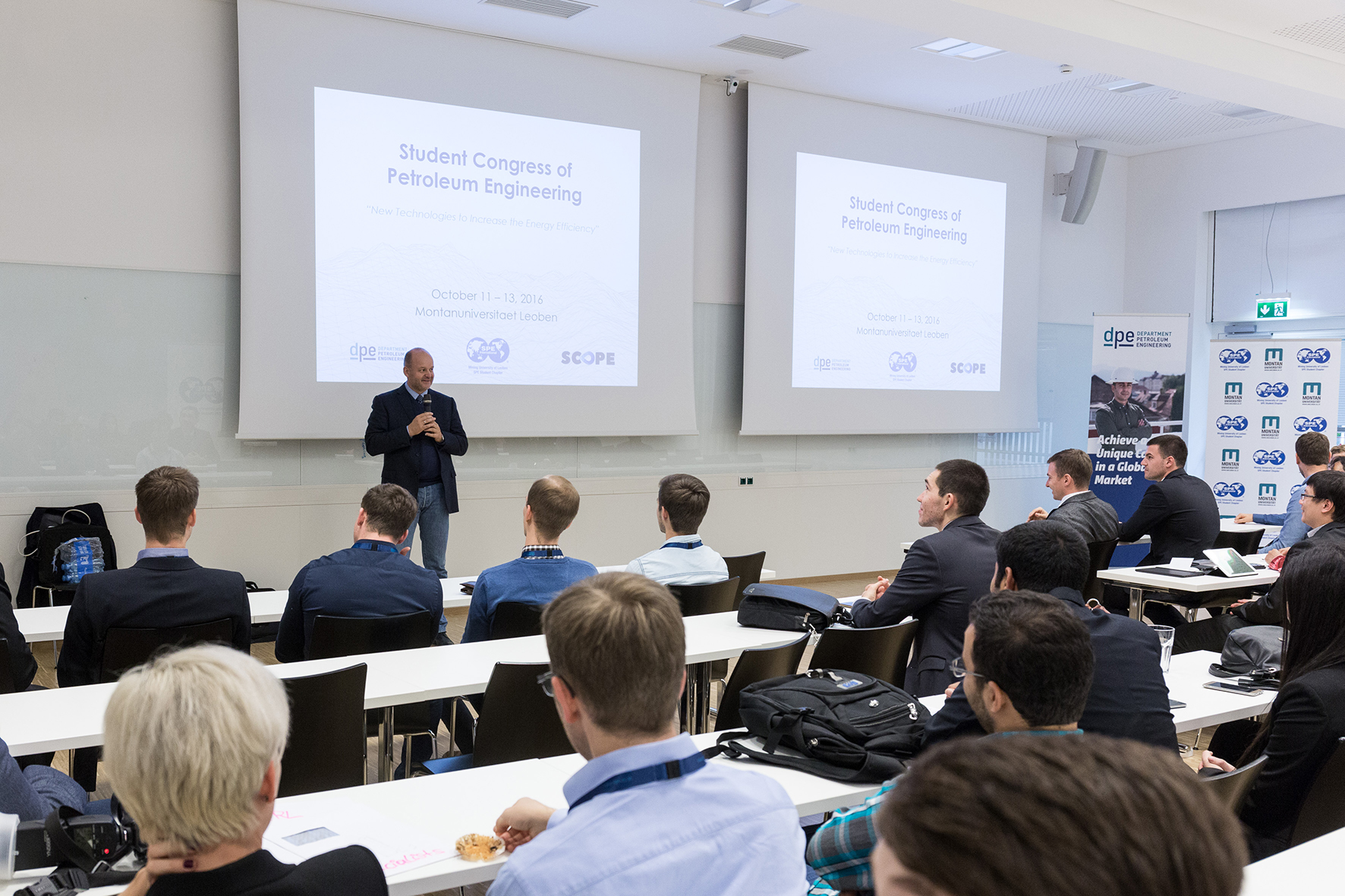 Student Congress of Petroleum Engineering

The SPE Student Chapter Leoben joined the Department of Petroleum Engineering at our Alma Mater Leobiensis to celebrate the 60th anniversary of our discipline. For this reason, a three-day event was organized by the SPE Student Chapter and DPE.
The event was kicked off for the students by a field trip to the OMV Refinery in Schwechat, in which not only students from MUL, but also from Clausthal (Germany), Moscow, Ufa and Almetyevsk (Russia) participated. We were shown a nice presentation about the refinery, how the process works as well as how OMV innovates and invests in environmentally sustainable technology. Then we boarded our bus and went through the refinery. We realized that the refinery turned into a comprehensible site: Suddenly all the "smoking tall towers" almost everyone knows from their way to the Vienna airport turned into chimneys, reactors, distillation towers and so on. After about an hour, we had seen all facilities, and we could return to the canteen, have lunch and return to Leoben. But on our way to Leoben, we encountered a little surprise:
About halfway to Leoben, the bus suddenly slowed down, and exited the highway for a stop in Ternitz in Lower Austria. To the surprise of the participants, we could arrange a quick visit at Schoeller Bleckmann Oilfield Equipment (SBO), one of the world's leading manufacturers of special purpose drill string components, such as the basis for downhole motors, non-magnetic drill pipes or various logging and measurement devices. Although due to the current industry downturn the plant seemed nearly dead, we could get a good impression of how things could be here when the demand for high-quality products is high. The tour gave the opportunity to see the whole manufacturing process, starting from the raw steel cylinder over various treatment processes to the precision work of drilling out holes with diameters reaching from a few millimeters up to several inches, which are required to fit in various measurement tools, motors or electrical cables.
After returning from the Field Trip – and introducing our guests to the traditional Leoben semester opening events – we gathered again on Tuesday afternoon for the start of what would become two and a half days of intensive presentations, discussions and networking. The event started with Professor Thonhauser welcoming the guests, talking about the history of our department. His introduction was followed by interesting and inspiring keynote speeches from important and high-ranking industry veterans.
Christopher Veit (OMV), who chose to talk about the successful scientific cooperation between MUL and OMV, was followed by a speech by Gerald Grohmann (coincidentally the CEO of SBO which we had visited just the other day). He introduced the audience to his company's operations. The keynote speeches were continued by a representative of Rosneft, Franz Wohlfart. He talked about his company, which seems to be quite unknown in Europe, despite being one of the largest oil companies not only in Russia, but worldwide, and more importantly, about the importance of strategic planning, exceeding just the next reporting period. In his opinion, even our industry, which is dominated by significant price fluctuations, has to think in dimensions well exceeding 10 years to position ourselves and to be prepared for the future!
Ted Christiansen of voestalpine Tubulars focused on innovation, and the role of our generation: We will be the ones whose visions will bring the industry forward in the future. He encouraged the audience to think out of the box, be curious and creative, and most of all persistent if we are convinced of an idea! The last keynote was by Kris Ravi, a former Halliburton Technology Fellow, now running his own consultancy, who talked about well integrity.
The day was concluded by a gala dinner in the Congress Leoben. Along with a great selection of typical Austrian food, we could talk and get to know each other. But even during dinner, we had the great opportunity to listen to another great presentation: Philip Keil, a professional pilot with Lufthansa, talked about the techniques pilots use to keep calm even in unusual and highly stressful situations. "Aviate, navigate, evaluate" and a technique called "FORDEC" (acronym for "Facts, Options, Risks & Benefits, Decision, Execution, Check") does not only help pilots, but they are also things we could use for ourselves. The basic idea behind those models are to have a predefined "checklist", what has to be done first before doing the next step. It also gives a clear priority to the important things (Aviate, i.e. flying the plane is the key, and only if that is guaranteed, the pilot can go to the next task, which is to follow his route. And only when on this route, he can deal with all the "greater picture").
Wednesday morning was dominated by a panel discussion between Prof. Hofstätter, Prof. Ott, Kris Ravi (Halliburton), Helmut Langanger (ex-head of OMV E&P) and Matthias Meister (Baker Hughes, Regional Director of SPE) led by Prof. Thonhauser. The motto of the discussion was "Last 60 years, next 60 years", investigating various aspects of the industry, what led us to the status quo, and more importantly the outlook to the future. While the panelists did not share an opinion on the role of renewables, and how much our own industry should focus on this subject, there was one thing quite clear: The future generation will see some significant changes, but oil will always be important, and a high quality education is the key to success. With this reassuring message, the official program of the 60th anniversary celebration was ended over lunch.
This was the time when the SPE Student Chapter took over, now under the motto "PEfficiency – New Technologies to Improve the Energy Efficiency of the Oil and Gas Industry". On Wednesday afternoon, Matthias Meister talked about the newest developments in logging while drilling made possible by Baker Hughes, one of the world's largest oilfield services providers. The second presentation was done by Peter Soroka and Anna Petitt, presenting their company Tendeka, a market leader in the production of completion equipment. They also talked very much about autonomous inflow control devices, a piece of technology Tendeka developed, which is used to control water and gas influx in oil wells. This allows a more efficient production of oil while not having to shut in perforations completely.
The sessions on Wednesday were concluded with the Poster Contest sponsored by Schlumberger, the world's largest oil field service provider. 14 contestants from nearly all attending universities competed with interesting topics reaching from reservoir engineering over drilling and production technology as well as pipeline engineering and even alternative fuels. At the end, the proud winner of the contest was Airat Kashkarov, representing Ufa State Petroleum Technological University. Congratulations to him, and of course to all the participants to the Poster Contest for their outstanding research work!
Thursday was again under the patronage of your local SPE Chapter. Our participants could hear an interesting presentation about an exciting technology developed by the Austrian company RAG: The MURAG system, which allows an automatic measurement of the liquid level in a well, which is used to adjust pump speed for an optimized efficiency. The presentation, followed by a nice discussion about the benefits of this tool, was held by Christian Burgstaller, one of the leading developers of the MURAG system. His presentation was followed by the former chairman of the SPE Vienna Basin Section, Reinhard Pongratz. He talked about his own worldwide career with Halliburton, and then OMV as well as within SPE. His speech was a motivation to join SPE and to be active there – as he said, a very rewarding experience, although it takes a certain commitment.
The third presentation of the morning session was then somewhat science-fiction, reminding the audience of the legendary film "Armageddon": David Kutas and Alexios Koulidis, a recent graduate and a master student of MUL, presented their research about drilling in outer space. A well-prepared and really interesting presentation was followed by a lively discussion, in which pros and cons of such a missions were discussed. While apparently the time for drilling in outer space is yet to come, it needs great visions and free spirits like these two guys to drive development and innovation!
Last but not least, Prof. Helmut Weiss of Montanuniversitaet Leoben's Electrical Engineering Department introduced us to the electrical engineering of sucker rod pumps and the enormous potential for increasing efficiency on that field!
After lunch, SCOPE was concluded with a fun event called PetroQuiz, which was hosted by our sponsoring SPE Section, the Vienna Basin Section. Under the guidance of a jury of four industry professionals, about 30 participants competed, showing off their knowledge on various fields of petroleum engineering, and our knowledge from drilling, production and facilities, to reservoir engineering, and even our general engineering knowledge was put to the test. The final round was won by the team "SPEcialists", consisting of students of Leoben and Zagreb university, closely followed by a Russian-German-Ukrainian trio and another team from Leoben.
A great thank you to every participant, making this event possible. At the same time, we would also like to thank all those involved in the planning and execution of this memorable event – organizing the framework, inviting speakers, putting up the questions for the quiz etc. – it could not have been such a great experience to everyone without your input!
Finally, we would like to congratulate our Department of Petroleum Engineering to its 60th anniversary, and wish the department, its members and most all its students a bright future! To many more great years to come!